The Peace Love Dub design is available as cut files in the shop now. Already proving to be a popular design, it's definitely one for the Kombi lovers! Let's take a look at the HTV cutting and pressing process for Peace Love Dub.
Peace Love Dub
The Peace Love design is a popular one and you'll find variations all over the crafting & design world. The common peace love dub design you'll find has a peace sign icon and the VW logo. It looks great of course, but I wanted to give it my own twist!
My Peace Love Dub design features the peace sign hand instead of the icon. And rather than a logo, I've got the whole bus!
The design has been left basic on purpose, with a simple line design. This is so that crafters can easily put their own spin on it! Colour the SVG file for print or sublimation, or use printed HTV to customise.
For the following example, we're cutting the file as it, with a single sheet of HTV.
Download and Import
The first step after purchasing the Peace Love Dub download files. Then open your software of choice – I use Silhouette Studio as I own a Curio machine to cut, but for editing I use Adobe Illustrator.
As I use the free version of Silhouette Studio, I work with DXF files. Your software, such as Cricut's Design Space, might work with SVG files.
Cut the Design
Once you have the cut files in your software, with cut lines in place, you're ready to start setting up for the cut.
IMPORTANT: Remember to mirror your design when using HTV (heat transfer vinyl). In Silhouette Studio, highlight the design, go to OBJECT on the top menu bar, click MIRROR, then select FLIP HORIZONTALLY.
Load your vinyl or material of choice. For this example, I used a piece of Stahls Metallic HTV. This HTV was placed on the mat shiny side down. Most HTV is cut from the back of the vinyl, leaving the carrier sheet in place.
It's very important that you learn the different load & cut settings for different materials. For example, some patterned HTV is placed shiny side up and doesn't need to be mirrored.
When you've got your materials loaded and cut settings adjusted to suit, let your machine know it's time to work some cutting magic!
Weed Your Design
Unload your mat/material from the machine once it's finished cutting. For this next bit, you'll need a weeding tool – or something to take away the bits of HTV we don't need.
Don't worry if you don't have a specific 'weeding tool'. When I first started I found a seam ripper from my sewing kit worked perfectly. Some crafters use a dental pick, or a mini pick set such as the one pictured below found on eBay.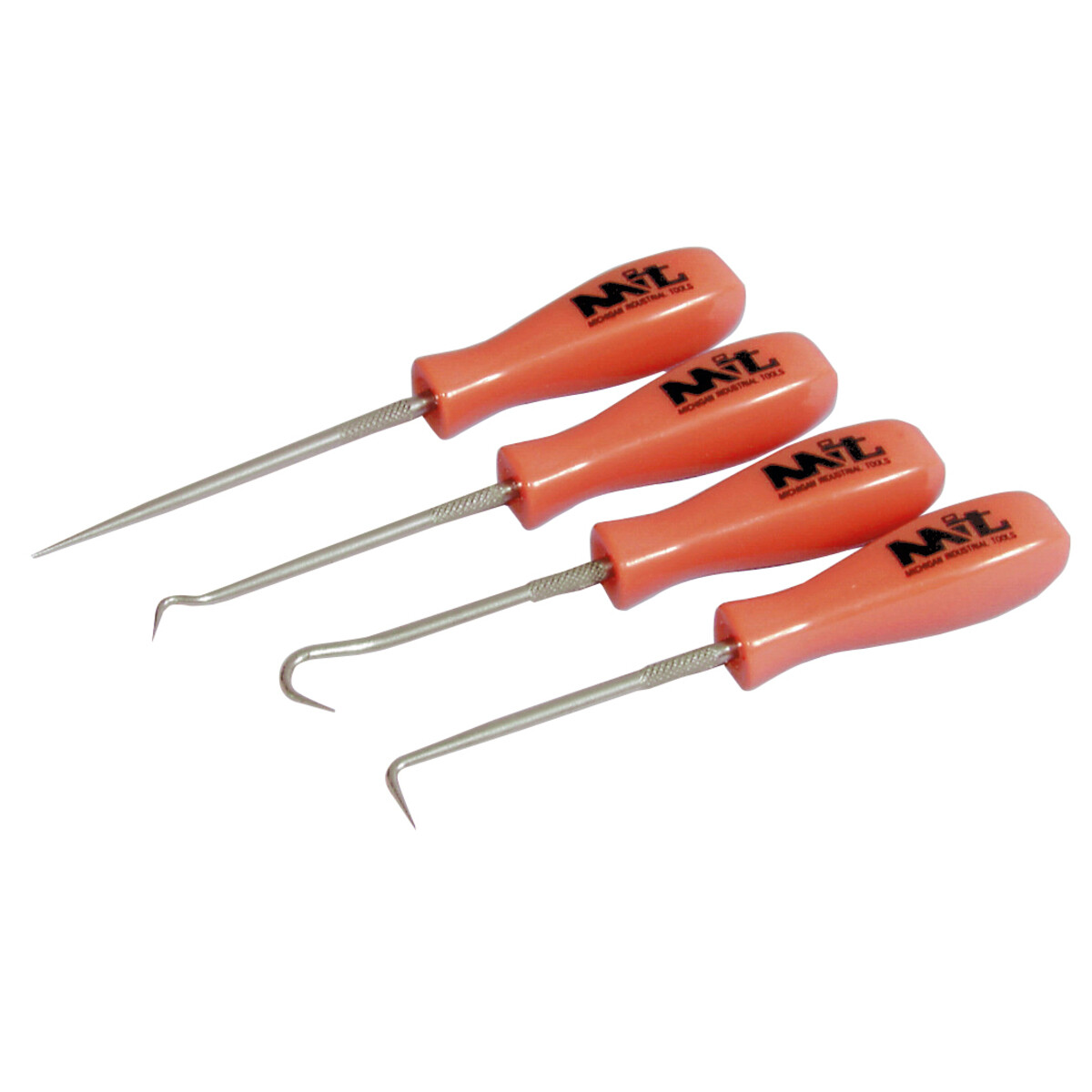 Using your tool of choice, pick out all the pieces of HTV that aren't part of your final design. What you end up with will look something like the photo below.
Time to Press
Your design has been cut and weeded, and now it's time to place it onto your item of choice. For adhesive vinyl you can place down the decal straight onto your item of choice (ie, timber sign, decorative plate, car window, etc).
As I was using HTV, I need heat to adhere the design to fabric. For this example, I would be putting the HTV onto a cotton tote bag using my Cricut EasyPress.
Using the EasyPress, and without the HTV in place, I gave the bag a press to flatten out the wrinkles, and to remove any moisture that might be present in the fabric.
Once the bag was ready, I positioned the design in the centre and covered it with a piece of baking paper. The baking paper helps to prevent scorching the fabric.
With HTV, it's important that you're pressing onto a hard, flat surface. This ensures even pressure and a more successful press. It's not recommended to use an ironing board for this reason. When using my EasyPress, I have a large marble chopping board that's covered with a towel.
Remember to research the temperature and time settings required for your materials. Cricut have a handy Heat Guide to consult, or check with your HTV supplier for the information.
Peel
Another setting you'll need to check is whether your HTV is cold, warm, or hot peel. The metallic HTV I used for this example required a cold peel – which meant the design needed to be cool to the touch before removing the clear carrier sheet.
To peel, hold the fabric firm with one hand. With the other hand, peel back the carrier sheet slowly. Peel back on itself, rather than pulling it up. As you peel, check for any parts of the design that may not have adhered properly.
Once I remove the carrier sheet, I almost always press again just in case pulling the carrier sheet has lifted any part of the design. I replace the baking paper I used in the first press, and press again for 5-10 seconds.
IMPORTANT: Make sure there's something between your HTV and heat press otherwise you'll melt the vinyl and make a big ole mess.
Bonus: One Cut, Two Items!
Anyone else get a little pinge of sadness when throwing away weeded parts of your designs? I hate it, especially if it's for an expensive piece of HTV!
As I was weeding this project though, I had a brainwave!
Rather than throwing out the weeding bits, I kept some pieces aside. After pressing the original design onto the bag, I set the carrier sheet aside.
Using the weeded pieces, I then rebuilt the images from the original design – but instead of just the outside lines, I now had the inner parts of the hand, heart, and bus.
As the carrier sheet had the faint cutting marks from the initial cut, it was easy to line up design – shiny side down of course! Once I had the design rebuilt, I pressed it onto a tshirt.
Two projects from one cut – how cool is that!
---
The Peace Love Design really is a versatile one! It's a best seller in the design store on Etsy and I believe for good reason.
What do you think of the Peace Love Dub design? Have you purchased this download? If so, I'd love to see what you made with it so please share your finished items with me on social media! Tag @sunflowersbluejeans on both Facebook & Instagram.
Are you looking for more design files for your crafts? Take a look at the design store for an archive of digital downloads including cut files and sublimation images.
If you love Kombi crafts, then you might also love a fun Christmas Kombi craft! Take a look at the Christmas Kombi lollipop holders HERE.
---
Follow @sunflowersbluejeans on socials
---
Pin It!
Pin this article to your Pinterest boards for easy reference when you need it
Join me over on Pinterest! Check out my latest pins below…
Shop the latest designs
Shop the latest tees